Women Share Their Experience At Jhené Aiko's 'The Ark' Day To Night Healing Retreat
I guess it's fair to say that there are healing retreats, and then there are Jhené Aiko's healing retreats. (Plural, yes. I know that we all are manifesting more of them for the future.)
If there's one thing that we, spiritual beings, were excited about in February 2022, it's the activation of a powerful energetic portal that occurred on the 22nd—which also happened to be…on a Twosday. With that said, little did we know, our (and pretty much everyone's) favorite artist and inspiration Jhené Aiko was planning on giving us much, much more to look forward to.
A few days before the big day, on February 15, the lightworker posted a flyer on her socials announcing the realization of a dream that she'd been manifesting for a long time, at least since 'Modern Mantra Immersive Sound Healing Experience,' her November 2019 performance in Los Angeles, CA. "I am building an ARK," she writes in the caption. "An All-embracing Restorative Kingdom. Come one, come ALL. 2/22/22." And just like that, tickets for 'The Ark', Jhené Aiko's very first immersive day-to-night retreat taking place at Wisdome.LA, an immersive art entertainment park located in Downtown Los Angeles, were available for sale.
As a non-attendee, (that's only because I live over five thousand miles away from the City of Angels. Otherwise, believe I wouldn't have missed it for anything), what I appreciate the most about 'The Ark' is that—I'm convinced—nothing was left to chance. Every single detail has been divinely thought-out, starting with the event date which not only carried a strong magnetic field to inspire healing, introspection, and attract our desires, but that also marked the very beginning of Pisces season, Aiko's Sun and Moon signs in Astrology. Speaking of which, I honestly can't help but think that hosting a day-to-night retreat was no coincidence either when each time matches the singer's astrological placements. Day (Sun) to night (Moon)…get it? My observations also showed me that numerology-wise, the theme was obviously set on the number two. A number that 1) equates to the two fishes in the representation of the Pisces sign, and 2) whose essence, especially, is composed of patience, attentiveness, expression, healing, cooperation, and togetherness. In other words, the perfect kind of energy to reunite the collective and take a short, yet intense, trip to the other side of the veil.
Imma be real, the fear of missing out had me feeling curious to find out what 'The Ark' looked and felt like from the inside. So, I reached out to three of its attendees so that they could talk me through their experience.
Petilisa, 36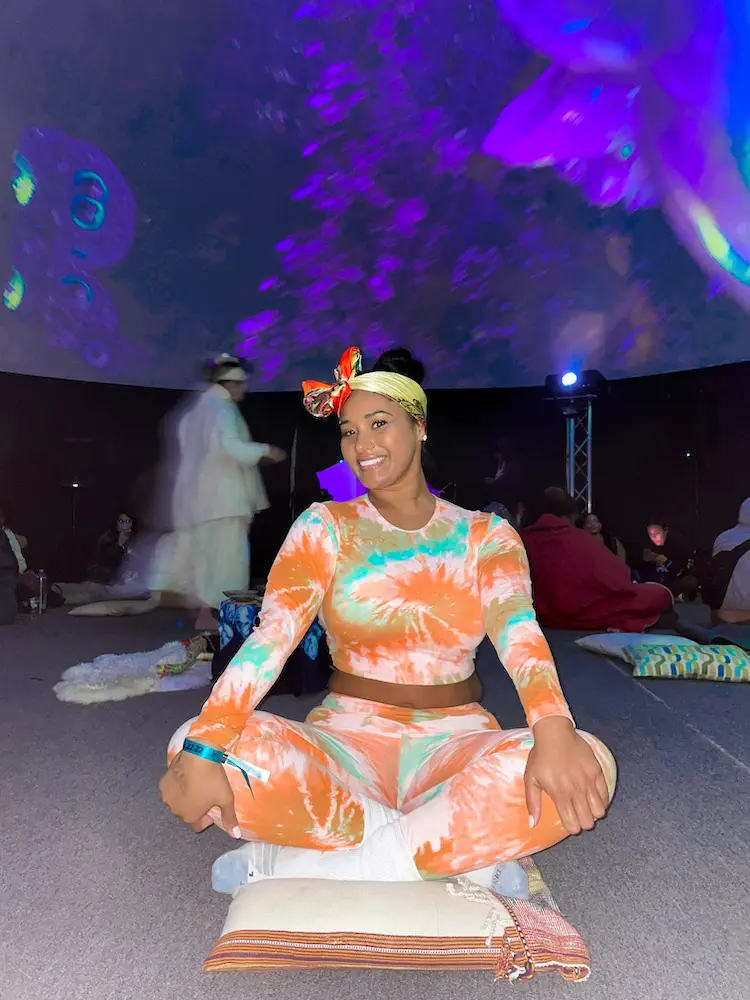 Body Sculptor & Beauty Educator
"I've been a fan of Jhené and always thought it was so cool that she's into sound bath healing practice. When I saw on Instagram that she was hosting a retreat, I immediately thought to myself, Oh my God, I have to go! Hosting wellness retreats for women is something that I want to do myself and I feel like if I experience such kind of retreats as an attendee myself, it'll give me an insight on what to expect and what people expect as well."
"There were four different domes. One was for meditation, one for dance and yoga, one for sound healing, and another one for breathwork. Some vendors were also there, selling crystals and other spiritual items. Jhené, on her end, was selling shirts, and I think I overheard someone say that Namiko Love, her daughter, had created some of the designs."
"When I got into the dome where Jhené was going to perform, I went to sit at the very front row. The colorful geometric patterns that they were projecting on the dome's walls made the atmosphere feel psychedelic. What struck me was the moment when Jhené walked on stage and began speaking. All of a sudden, everybody went quiet. Earlier, when we were all waiting in line to get inside of the dome, we'd seen her walk past us and I was already thinking that she had such an angelic look in the white dress and quartz crown that she was wearing. But the reaction that everyone had when she showed up and thanked us for coming was a confirmation that her presence on earth isn't even human. It's so powerful. She really is an angel."
"Finding myself there, in this room, surrounded by men and women of color, by like-minded people that were there to learn. Listening to one of my favorite artists play sound bowls…it was a very nurturing experience for me. The vibration made me feel like I belonged in this place, right at that exact moment. It was a real spiritual workout; I felt extremely relaxed on my journey back home. I was knocked out and when I woke up the next morning, I felt vibrant. I still felt the effect of this healing session three days later."
"Although I walked into this retreat with an open mind and without really having any expectations, attending 'The Ark' really comforted me in the idea that I do want to host retreats for women. It showed me that I'm on the right path, that I should take my time, and that I shouldn't worry. You know, I believe that the Universe has ways to bring us to certain places that we're supposed to be in in order to prepare ourselves for what's coming into our lives. I've been working on being more vocal about who I am and the things that I want for my life. And for my dreams to come to fruition, I'm learning that I have to open myself to my peers. I'm learning to embrace vulnerability, and to show up."
Keep up with Petilisa on Instagram @allthingsflylisa.
Raianne, 26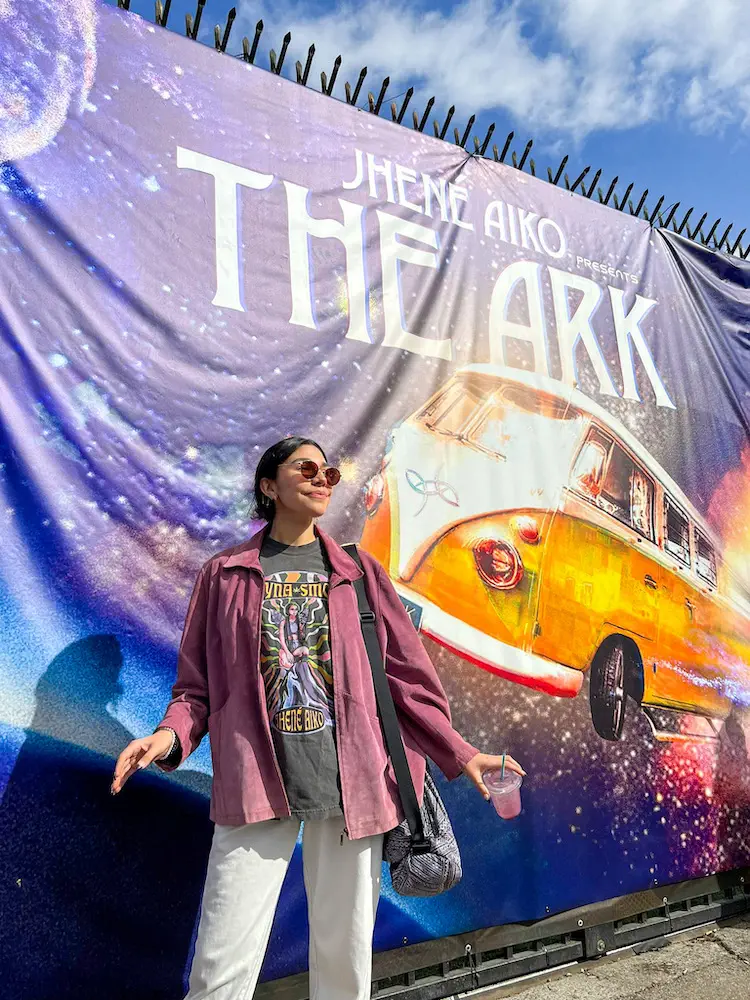 Psychiatric Social Worker & Mindfulness Content Creator
"The opportunity to attend Jhené's retreat came to me divinely. It's my best friend, who had been trying to reach out to me all day to check whether I wanted to go with her or not, that decided to get me a ticket hoping that I'd be able to join her party. And I say that it came to me divinely because of what one of the retreat's healers said: The reason Jhené didn't promote the event so much in advance was that she only wanted those that were meant to come to be there. To her, 'The Ark' was all about divine timing."
"My experience was better than I could have imagined. I was super excited just to be at Jhené's first healing retreat, excited to be there with my friend, and then just excited to see what it was about. When I walked in, I felt as though I was at a festival. A healing festival, obviously, but still a real festival with 2.22.22-themed wristbands, maps, schedules, awesome merchandising, booths… Not to mention that there were only the best vibes there."
"We took part in Renee Rodriguez's breathwork session. Renee was such an amazing, beautiful starlight. I wouldn't have wanted anyone else to lead me through that experience. Her energy is very calming, grounded, and genuine. My friend and I were laying on the ground, comfortably installed with pillows and blankets. We were looking at the circles that were projected on the ceiling while listening to Renee. I've done many, many breathwork sessions before. So, I thought that I knew what I was stepping into. But this was a whole different experience. Renee had a person demonstrating the breathwork: With your mouth open, you breathe into your stomach, then into your chest, and exhale. All in one cycle."
"Breathwork can make your CO2 levels drop and your body—more so the unconscious stuck energy—can start cramping up. I began experiencing tightness in my lips, I had no control over my arms or fingers; they were just lifting up. Despite how odd it sounds, it wasn't frightening at all because Renee had prepped us so well on what could happen. About midway through, I started feeling very strong emotions. I felt in me the urge to release, to cry. A moment later, I turned to my friend, looked at her and saw that she was crying, too. She turned to me and asked, "Is it just me or?" Oh no, I've been crying. And that's when this healing exercise led to a beautiful, heartfelt moment between my friend and me where we hugged each other, led out more tears, and where we just reached a high state of gratefulness."
"As someone who does a lot of healing practices, I must say that Jhené really got me with this one. I walked out of the retreat feeling head over heels in love with life and so grateful to God. Totally stress-free, I've been feeling ready to take my healing to a new level. I think that it was the point of 'The Ark', to open us to all these types of healing because there was dance, there was yoga, aromatherapy, sound bath… There was so much, I think Jhené just provided this beautiful space to come and heal whether you've tried all of them before, whether you've tried some, whether you've tried none, and just to dip your feet into the water of healing and see what works for you. It's so beautiful to see that now that she managed to heal by sticking to her own healing journey, she's spreading that with others. I love that about her."
Keep up with Raianne on Instagram @thats.so.raianne.
Danette Monique, 30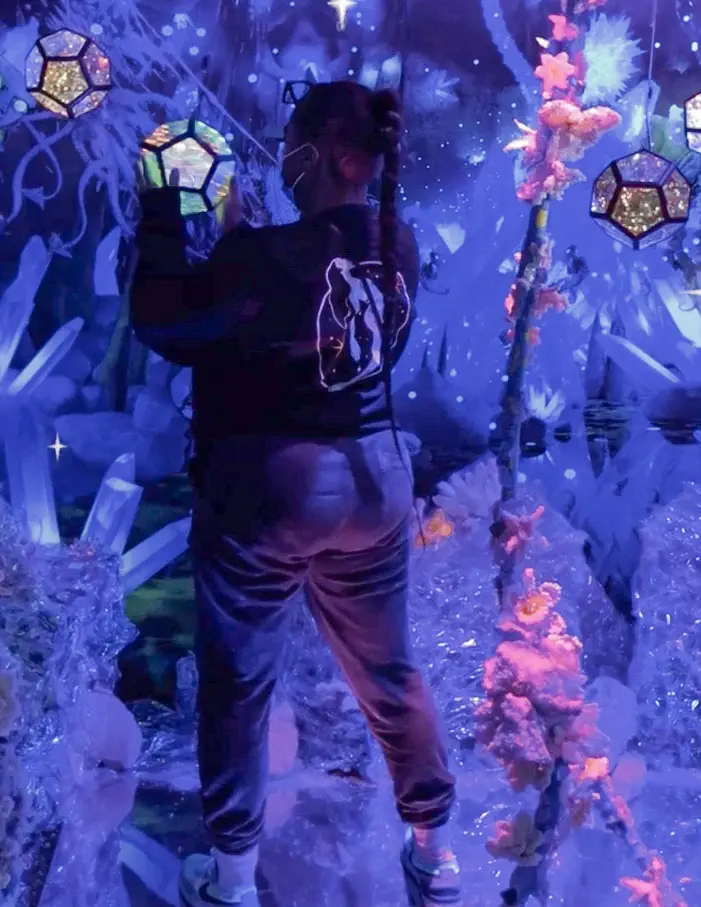 Nurse
"The reason I decided to attend Jhené's healing retreat, aside from the fact that it's the kind of experience that I enjoy and which I find important to make time for, is that I needed a spiritual shift. A way to release, reset, and feel whole again."
"I was in a place where I felt mentally defeated. There are so many things that I must deal with at work as well as in my personal life; I'm constantly pushing myself past my limits. However, as a very structured woman, I need balance and for all the things in my life to have a real purpose. I'm aware that I should slow down and gather myself, but I must admit that it's something that I sometimes fail to do."
"When we first stepped into the spiritual realm that Jhené Aiko has created for us, my friend and I found our way to the 'Dance & Yoga Dome', where we attended a yoga class—my favorite activity of the day. The latter was an amazing way to move, to stretch, twist, and release the accumulated tension built up in our bodies. Then, we hopped to the 'Sound Healing Dome' where we listened to LA-based singer-songwriter Kiah Victoria perform. A special moment to me for not only does Kiah Victoria have an angelic voice, but I could also relate on a personal level to her songs about her move to LA and navigating life as a woman. Feeling seen and understood is always a unique feeling. For our last activity, we moved on to the 'Meditation Dome' and joined the crowd that was already sitting on the floor in meditation posture. As I put myself in position, I could feel that everyone was so present in the moment. We were all connected, bouncing off each other. People were pleasant and vibrating at a high frequency. There were no bad vibes. I, myself, felt light, peaceful, and at ease with my own spirituality."
"I received a few lessons during that night, such as the fact that I need and am allowed to take breaks. I need to pour into myself and not feel guilty about my humanity. I realized that I'm not immortal; my mind, my body, and my soul require to be in perfect alignment in order for me to keep going."
"As a whole, 'The Ark' was a beautiful experience that I believe revealed and spread Jhené Aiko's light. It's a product of her own vision that definitely represents who she truly is. Whether she was on stage or walking around the venue, she was wearing this glowing aura that eventually turned her physical body into a body of true peace and pure love."
Keep up with Danette Monique on Instagram @danettemonique.
Want more stories like this? Check out the related reads below, sign up for our newsletter, and follow us on Instagram @workthemagicwithin. Have an inspirational story to share? Email us at savannah@workthemagicwithin.com.
Featured image courtesy of Raianne